The CAP on LITTER project aims at improving policies and practices that can help in preventing marine litter that results from coastal tourism and recreational activities. Specifically, the project will focus on certain key fractions of waste, such as plastic, as well as food and drink containers originating from beach facilities and recreational events. 
Marine litter, which is any synthetic waste item that ends up in the sea, is a growing cross-sectoral global challenge. It's negative ecological and socio-economic impacts pose severe threats to the environment and human livelihoods, affecting human health, natural habitats and biodiversity systems.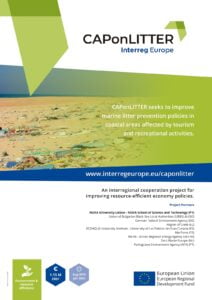 The top marine litter items found on EU beaches range from cigarette butts to plastic bottles and straws. According to the UN Environment, these can be largely linked to coastal-based tourism and recreation activities. The variation of litter on beaches seems to be correlated with the tourism season and in some places (e.g. the Balearic Islands) the amount doubles during the tourist high season.
As part of the CAPonLITTER project, we're partnering with seven organisations across Europe, from Lisbon, Crete, Marseille, Berlin, Gran Canaria, as well as the Istria and Black Sea regions of Croatia and Bulgaria respectively. Specifically, these are regions where coastal tourism brings many economic benefits. However, the high levels of tourism also brings with it a negative impact on marine litter, as well as putting significant pressure on local waste management infrastructure.
Together with members of both Zero Waste Europe and Break Free From Plastic, we will be collecting some of the existing best practices in Europe today of policies that are preventing marine litter. We want to showcase how European municipalities and cities on the coast that receive high volumes of tourism can still implement effective waste prevention measures. 
Such as our member in Spain, Rezero, and their  "Zero Beach" project in three coastal municipalities in Catalonia. The project successfully tested different measures aimed at preventing waste generation at the beach, including smoke-free beaches, a simulation of a DRS for beverage containers with economic incentives and awareness-raising measures that promoting reusable options instead.
Our engagement in the project will directly align with our existing work to both help accelerate the implementation of the Single-Use Plastics Directive within the EU, and the adoption of effective zero waste policies by European municipalities.  Together with the project partners, CAPonLITTER will result in various communities of stakeholders committing to zero plastic waste, beaches and coastal events with zero waste management plans in place to prevent marine litter, including significant improvements toward waste prevention, collection and recycling at these coastal sites.  
This work is supported by Interreg Europe and the European Regional Development Fund.