By Luca Neumann
In recent months, in response to the coronavirus crisis, governments and financial institutions have started to invest in economic recovery strategies with a strong focus on "green" solutions. Meanwhile, C40, a network of the world's megacities committed to addressing climate change, estimates that the waste management sector has the potential to create 2.9 million jobs in its 97 member cities alone.
To find out what "green" recovery solutions could mean in terms of employment, our mother organisation, GAIA set out to evaluate the job creation potential of zero waste approaches in its recently published report, "Zero Waste and Economic Recovery. The Job Creation Potential of Zero Waste Approaches".
Based on data coming from a wide range of sources covering 16 countries, the report comes to a very clear conclusion: zero waste approaches create more jobs than disposal-based systems that primarily burn or bury waste. Waste management solutions can be ranked according to their job generation potential, and this ranking exactly matches the traditional waste hierarchy.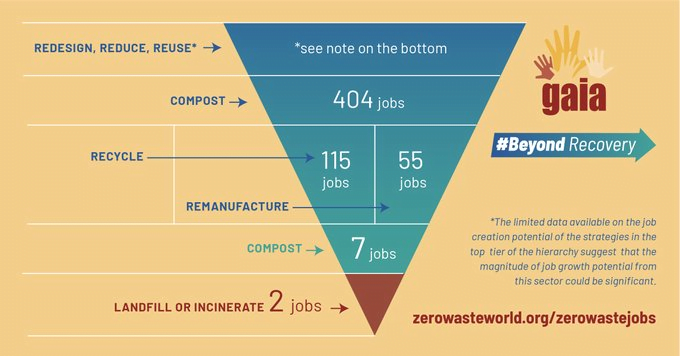 According to these results, economic and environmental goals are compatible and a zero waste approach bears the potential to strengthen the local and global economic resilience by creating a higher number of jobs in sustainable sectors. Additionally, evidence in several studies suggests jobs created in zero waste systems to be of better quality in terms of wages, working conditions and skill development potential in contrast to comparable fields.
The key numbers speak for themselves. Compared with landfilling or incinerating waste,
Repair creates over 200 times as many jobs,
Recycling creates over 50 times as many jobs, and
Manufacturing almost 30 times as many jobs.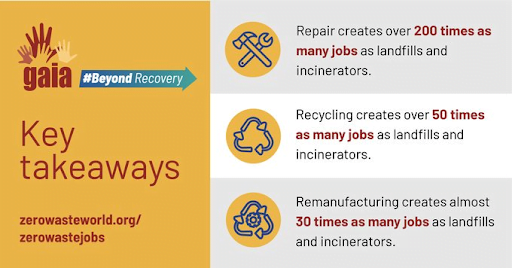 On the ground, data from cities all over the world confirm the findings. Overall, in every city the study analysed, the number of jobs that could be potentially gained, due to new jobs in recycling, remanufacturing and composting as a result of zero waste strategies being adopted, largely surpasses the number of jobs lost with a reduction in the use of traditional waste disposal systems. For example, for Brussels, Belgium, it was calculated that 30 jobs could be lost in disposal whilst simultaneously, it could almost gain 350 new jobs with zero waste policies in place. In London, United Kingdom, the shift is even more remarkable as the net gain lies at around 4,750 jobs.
However, as the Zero Waste Cities programme illustrates, it is not only the world's metropolises that can count on zero waste approaches to promote job creation and, hence, increase their social and economic resilience.
Further eastwards, Prelog in Croatia, the public waste management company which is responsible for the city of Prelog and 11 neighbouring municipalities, managed to separately collect 57.25% of municipal waste in 12 municipalities (Prelog 66.69%), where only 70 kg of mixed municipal waste is produced per capita per year. PRE-KOM is committed to the goal of reducing that amount to below 50 kg and increasing separately collected waste to above 70% in all municipalities in the next few years. Aside from its success in waste collection and management, PRE-KOM also shows that zero waste approaches can be economically viable having increased its number of employees from 18 in 2007 to 81 in 2018 and its income from € 405,000 (2007) to 1,495,000 (2018).
Finally, to give a last example, the province Pontevedra in Spain introduced decentralised composting and went from providing no options for bio-waste to a comprehensive and community-based system. After 3 years, already more than 2,000 tonnes of biowaste has been locally composted and the project has been rolled out in more than two-thirds of the province's municipalities. The project also benefits local employment and most of the project's employees are trained at the same time. From 2 employees in 2015, this number subsequently rose with the growth of the project to 44 employees in 2019, most of whom are technicians trained to become master composters. After one to two years, these employees then leave to work for municipalities and pass on their knowledge to the next generation.
In conclusion, when it comes to "building back better", there is no choice to be made between ensuring economic recovery and putting people back to work or promoting the green transition. As GAIA's report showcases, as well as best practice examples on the ground in Europe's Zero Waste Cities, governments can effectively align economic goals with environmental goals, by implementing zero waste systems designed with and for the community. Local and national governments should take this opportunity to benefit from the implementation of zero waste solutions as part of their COVID-19 economic recovery strategy.