Earlier this year, we first introduced you to our plans for developing a pioneering Zero Waste Cities Certification for European municipalities.
Recognising that whilst the growth in awareness over the past decade on what zero waste is has resulted in many benefits, we see increasing threats to the true definition of zero waste and the circular economy. More and more often, the term is being whitewashed or diluted, sometimes intentionally by organisations and sometimes due to a lack of knowledge without any common standards to apply.
To combat this and to give municipalities the peace of mind that they truly are making a difference, Zero Waste Europe and its member organisations designed a certification system for Zero Waste Cities. Such system is built on the 10 years of experience we have been working with hundreds of European cities. At its core, there is the holistic, community-led zero waste philosophy we want to safeguard and promote as the solution. The Certification will also not only provide guidance and coherence to the numerous zero waste initiatives taking place today, but it will also embed our values within local-led solutions, raising the bar higher for greater improvements and more ambitious implementation. 
Be one of the first municipalities in Europe to verify your zero waste work with the most credible circular economy certification for cities.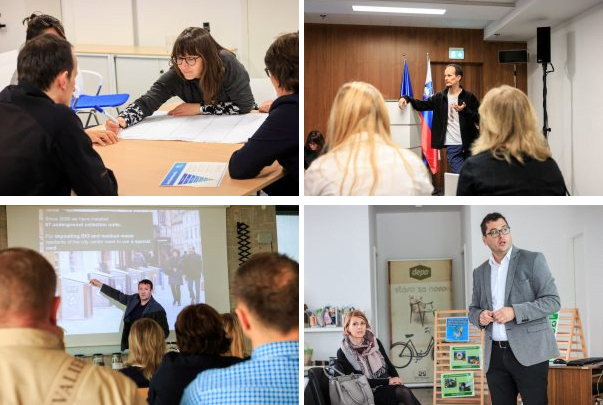 Photos from our 2019 Study Tour in Slovenia, just one part of the work we do to support municipalities in designing and implementing their own ambitious zero waste strategies.
Over the past few months, we've been busy working hard behind the scenes to develop the system and processes that will form the foundation of the certification. We're extremely excited to begin being able to test this with interested municipalities and waste management companies in the next couple of months.
Building on the existing mentoring and recognition programme we have for Zero Waste Cities, the certification will not only use a robust set of indicators to formally monitor and recognise the best performing municipalities, but it will also form just one part of a supportive package offered to local authorities wishing to begin their journey to zero waste from any starting point. In close collaboration with the development and roll-out of the Certification, we are also further developing the Zero Waste Europe Academy to make resources and expertise accessible for those working on resource management and circular economy topics.
The Academy will be providing services and resources that have specifically been designed to help train and support local stakeholders in the design and implementation of municipal-focused zero waste strategies. The Zero Waste Europe Academy will become your go-to point for support and ideas – whether you are looking for policies that help reduce waste management costs, tools to calculate the carbon emission savings from waste prevention measures, access to expert study tours or many more resources and content created using our experience of leading Europe's transition to zero waste over the past decade.
This is how a certification becomes more than just a certificate
Through the provision of data and local knowledge, access to verified experts across Europe, and the ability to utilise tools to help design and optimise zero waste strategies, the Zero Waste Europe Academy will be a municipality's guide through the certification process and beyond. Support will be provided each step of the way via both an online platform, several downloadable tools and a network of local zero waste experts.
Be the first to know what happens next
To ensure the validity and accuracy of the certification, we are now in the process of testing and piloting it with European municipalities. 
Furthermore, you can also let us know your interest in being one of our pilot cities and amongst the first in Europe to become fully zero waste certified. Therefore, if you're a waste management professional or municipality official who is interested in learning more about the benefits adopting a zero waste strategy can bring to your organisation and community, register here to be the first to be updated on the latest information.