At the end of last year, I had the opportunity to go on a three-day experience of delving into bins, breathing in the smell of freshly made compost, and getting up close and personal with some of Italy's best performing recycling, collection, and sorting infrastructure.
I joined the 2022 Zero Waste Europe Study Tour and witnessed first-hand what makes Milan and the nearby Treviso region so successful in their drive towards zero waste.
In my day job, I work as an Environmental Analyst for Zero Waste Scotland. This involves assessing the impacts of Scottish waste sector policies and initiatives as well as leading on research projects relating to waste management and the circular economy. I signed up to the Study Tour to find out what we can learn from the zero waste journeys of Milan and Treviso and what inspiration we can take from the system-wide approaches that led to drastic improvements in their separate collection rates and waste minimisation efforts.
The tour kicked off first thing on Monday morning, joining Milan's collection crews on their rounds of the city (and even poking around the contents of the bins)! During our time on the ground, we learned that the city of Milan offers separate collection of organics to 100% of its households, with the service having been rolled out one quadrant at a time over a period of 18 months. Today, Milan achieves a separate collection rate of 62.4%, particularly impressive for a city whose housing is made up of 85% high-rise communal buildings. The system has been designed with a number of features to support the service to be as accessible and successful as possible, such as:
A requirement for all buildings to have a 'waste room' and an assigned responsible person to ensure all residents have easy access to separate their waste for collection;

High frequency of organic waste collections: twice a week compared to once a week for residual waste and dry recyclables. This ensures the separate organic waste collection is the most convenient way to dispose of food waste;

Transparent residual bin bags to make residents more conscious of what they throw away and more likely to separate their waste correctly;

A ban on non-compostable plastic bags to reduce contamination;

Breathable kitchen caddies to reduce moisture content of food waste and resultant odours;

A tax incentive for home composting;

Incentives for businesses to serve water in reusable vessels;

A mobile food waste service at open food markets.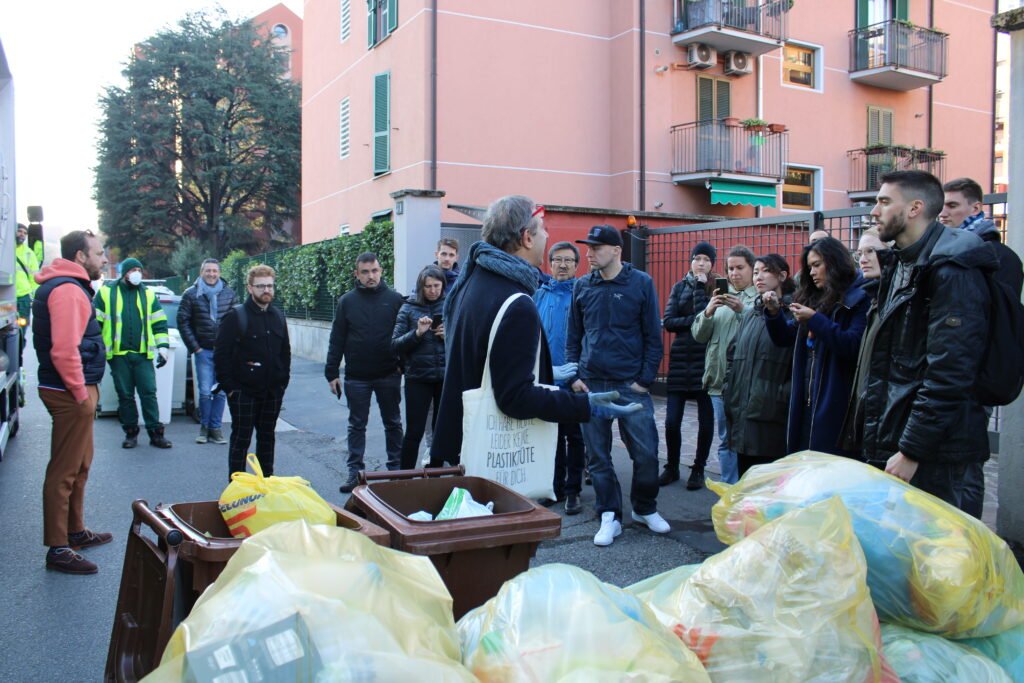 After hearing presentations from AMSA, the company in charge of Milan's waste management, as well as two local waste reduction initiatives, the next stop on the Study Tour was a visit to an organic treatment facility. Over the course of the trip, we visited two different organic treatment sites. The first, in Bergamo, produced a very mature output from the collected organics, which is bagged on site and sold commercially for gardening. The second composting site, this time in Treviso, offers their product to local farmers and residents of the region free of charge. The latter also showed us their air treatment system, consisting of a scrubber and biofiltration system to remove particulates and pollutants from the processed air, and shared their future plans to incorporate a semi-dry anaerobic digestor to produce biogas which could fuel part of the collection fleet. 
While in Treviso, we also visited a local Eco-Centre offering recycling of a huge range of materials and products – from clothes and shoes to televisions, car batteries, cooking oil, and much more. Contarina, the public company in charge of waste management for all 49 municipalities in the wider region, also gave us a tour of their recycling sorting facility and absorbent hygiene product reprocessing plant, and delivered presentations on the service offered to their residents.
A highlight for me was learning about the Pay-As-You-Throw (PAYT) scheme in operation throughout the region:
Contarina applies a service fee to all households in the region to cover the cost of all waste-related operations, including door-to-door collections, business waste collections, provision of waste bags, EcoCentre recycling centres, street and drain cleaning services, communications and education activity, etc.

60% of the total amount paid to Contarina comes from a fixed fee, based on the number of people in a household. The remaining 40% comes from a variable fee, paid only by those who exceed the number of residual bin removals covered by the basic fixed fee.

There is an optional extra charge for a garden waste collection service, and a 30% discount for home composting.

Over 90% of the population manages to stay within the fixed allowance.

Contrary to a common misconception that PAYT increases the cost burden on householders, Contarina's average annual service fee is considerably lower than average for Italy thanks to savings associated with reduced residual waste arisings.
The region achieves an impressive 89.9% separate collection rate (compared to an average of 63.0% for Italy as a whole), and just 42kg residual waste is produced per inhabitant per year (compared to a national average of 181kg per person). A large part of this success is attributed to the PAYT Scheme, though it was stressed that such a scheme will only deliver the desired results if supported by a fully accessible separate collection service first.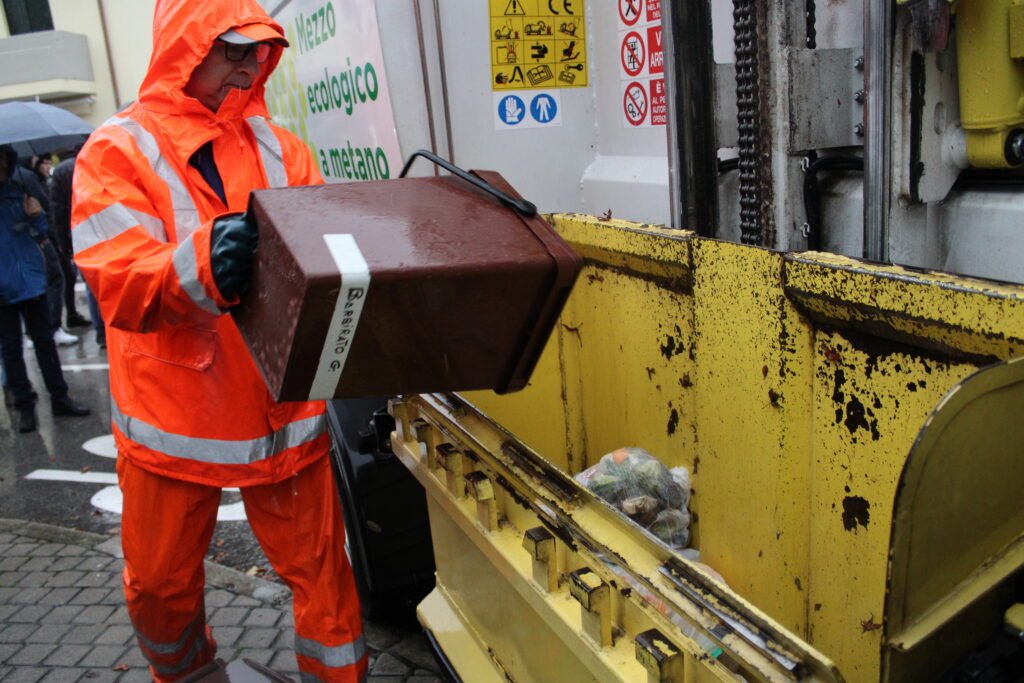 At a time when many countries and municipalities across the world are recognising how our everyday activities are impacting the environment and the urgent need to rethink our attitudes towards material consumption and waste management, the tour also provided an excellent opportunity to discuss ideas with fellow zero waste professionals from all over the world. Our group included delegates from Brazil, Ukraine, Australia, and all over Europe. One of the highlights of the trip was getting to know the rest of the group and hearing about the different stages we are at in our zero waste journeys back home.
Having signed up to the tour hoping to draw inspiration from successful recycling systems, gain first-hand insight into how waste management infrastructure operates, and connect with circular economy professionals across the world, I was certainly not disappointed! I would highly recommend future Zero Waste Europe Study Tours to anyone working or studying in this field.
All of us who participated in this year's tour owe a huge thank you to Zero Waste Europe, Contarina, AMSA, and all the other partners who took the time to show us around and share such valuable insight with the group.