On November 13th, Zero Waste Europe (ZWE), the Rethink Plastic Alliance (RPa), and Break Free From Plastic (BFFP) hosted a conference that sought to inspire the audience to write a new story of plastic.
Held in Brussels during BFFP's global week of action, just before the European Week of Waste Reduction, the conference convened a diverse panel of speakers to discuss a new story of plastic, including policy makers, campaigners, entrepreneurs, civil society, waste practitioners and local municipality officials. 
The outcome? A fruitful and inspiring discussion showing how EU policy is essential to supporting new zero waste business models focusing on waste prevention, reuse, and refill in order to ensure more local and resilient economies based on services and short supply chains; but also how synergies between policy makers and local actors are critical to ensuring the success of the EU's plastic and circular economy legislation.
To set the ground, Merijn Tinga, from Plastic Soup Surfer highlighted the importance of "closing the tap" at its source to end plastic pollution. He demanded a 'plastic transition' at the policy level based on five principles:
100% collection and responsibility: if you produce plastic, you are fully responsible for its environmental impact during its entire lifecycle.

Reduce and reuse: stop looking for alternatives to plastics, we should start looking to alternative behaviours.

Deposit Return Schemes (DRS): the industry has the power to influence consumer behaviour such as deposit return systems, and good behaviours should be rewarded.

Simplify: reduce toxic additives and the variety of plastic in products' design.

Keep track: monitoring should be a primary focus during clean-up campaigns.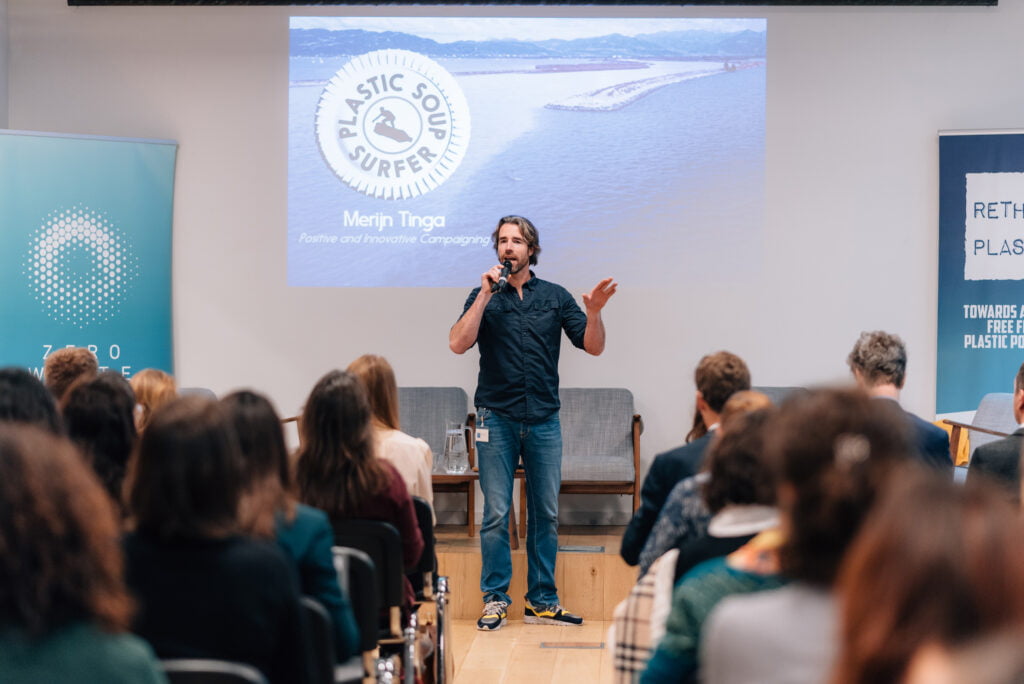 The first session then focused on the challenges faced by zero waste cities and businesses when it comes to overcoming plastic waste while showcasing existing solutions.
Among other things, Emma Priestland (Corporate Campaign Coordinator, BFFP) explained how BFFP has leveled up beach clean up activities by carrying out brand audits, using the collected data to lobby for change and claim responsibility from companies – instead of the responsibility being  beared by municipalities as it is currently. However, a real change would be possible only if producers would start to work together with municipalities and waste treatment plants to make sure that products can actually be recycled, reused or properly disposed after use. Emma concluded her speech by sending a tough message to the polluters:
 "Stop producing single-use plasticsIf products got your name on it, you need to deal with it until the end of its life".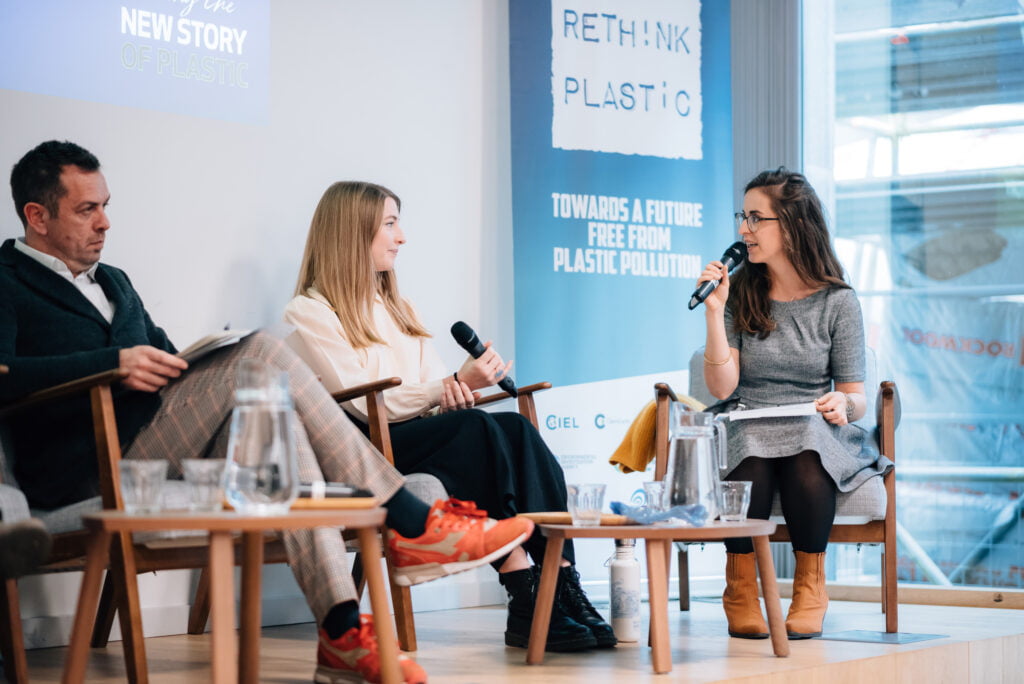 Jumping on that, Jack McQuibban (Cities & Communities, Zero Waste Europe), emphasised that the blame is being put on citizens and municipalities while brands pump the market with harmful and polluting products. However, cities are currently challenging the status quo by building social entrepreneurship, creating local jobs and maintaining investment and value within the community. 
"Many success stories already exist at the local level. Therefore, instead of exporting our plastic waste abroad, Europe should be exporting these great examples of communities coming together empowered to work towards the same goal of a zero waste society."
Adding to the collaboration perspective among producers, waste management companies and municipalities, Marco Mattiello (International Relations Manager, Contarina) gave great insights on how the recycling and waste management facility in Contarina work side by side with producers and the municipality. Contarina supports the community by providing training and information, for instance, on the right disposal methods and measures to reduce waste.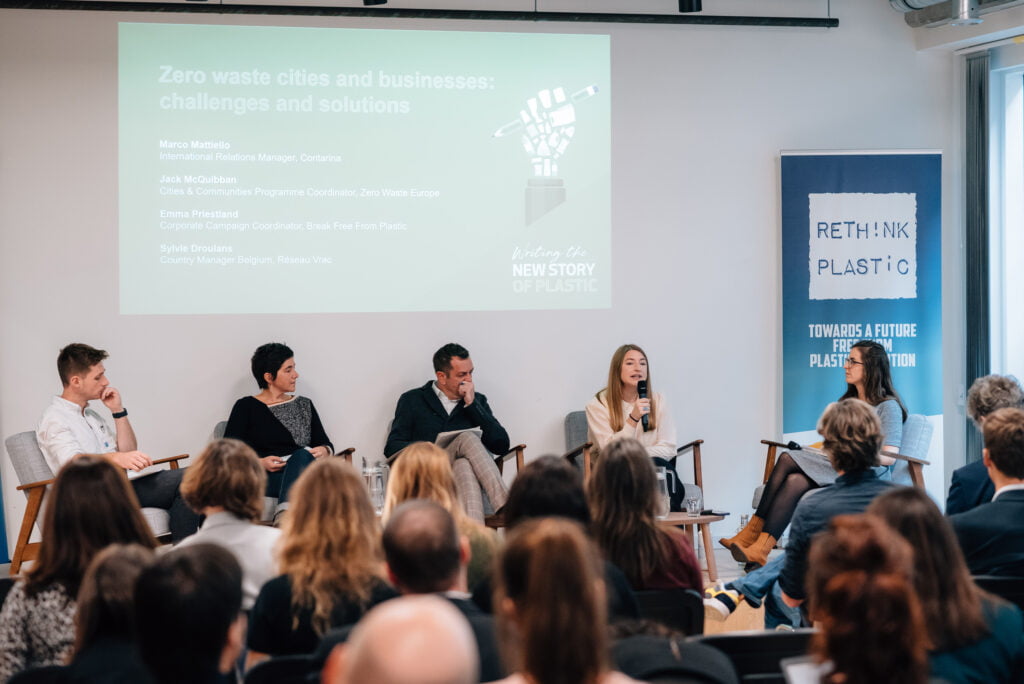 To complete the ideal zero waste scenario, Sylvie Droulans (Country Manager Belgium, Reseau Vrac) highlighted the importance of new business models for addressing the plastic crisis by acting on the prevention side. She showcased the dynamic and overgrowing market of packaging-free shops and the importance of rethinking the entire supply chain to reduce the amount of packaging between supplier and retailer.
 "We need to have  supportive legislation for bulk shops, and to end the barriers around reusable containers, contamination, and hygiene."
Inspired by the fruitful discussions held on the first session, the second panel focused on how to catalyse further EU action to support zero waste solutions.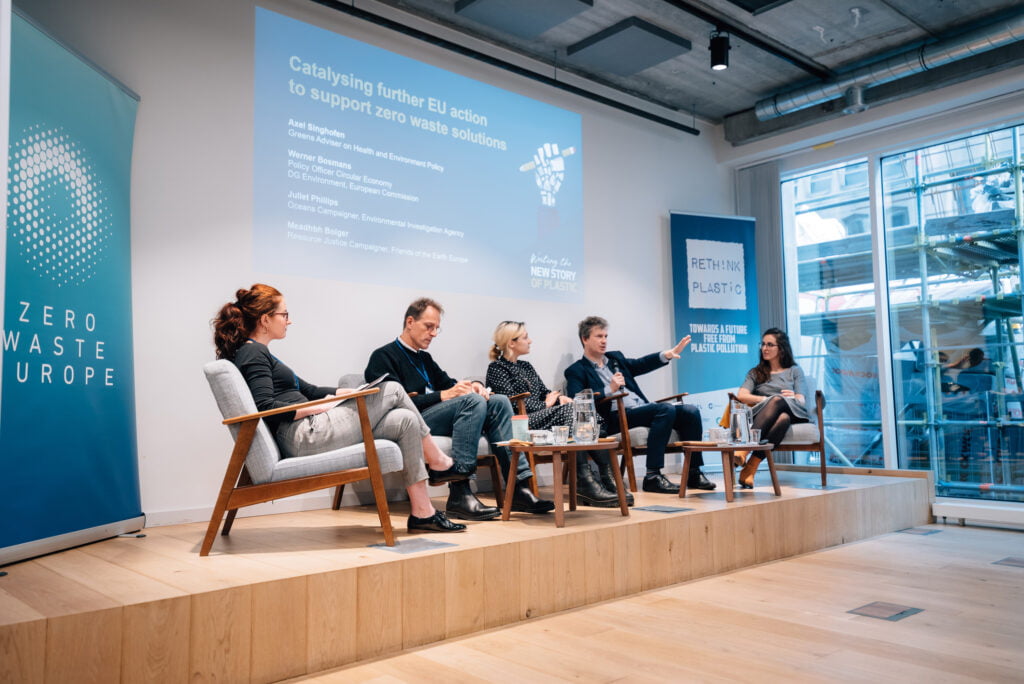 Werner Bosmans (Policy Officer – Circular Economy, DG Environment, European Commission), started  the discussion by sharing his knowledge on the role of EU policy to tackle plastic pollution and the current EU Commission's plans to address it, including the undergoing revision of the Packaging and Packaging Waste Directive (PPWD) on essential requirements for packaging, for instance, what criteria packaging should meet in order to be placed on the market.  
As one of the co-authors of a recently published report on Reusable Solutions, Meadhbh Bolger (Resource Justice Campaigner, Friends of the Earth Europe) highlighted the importance of EU policies to introduce incentives and ensure financial support for reusable items and systems to overcome barriers to entry, such as capital investments for collection vehicles or washing facilities, and placing a tax on single-use items to quickly incentivise businesses to seek reusable alternatives.
"There are no sustainable materials! Every material has an impact, it's not about making the packaging itself sustainable, but the whole system." 
She closed her speech by demanding an EU Directive dedicated on Reuse to address the plastic crisis in an overarching way.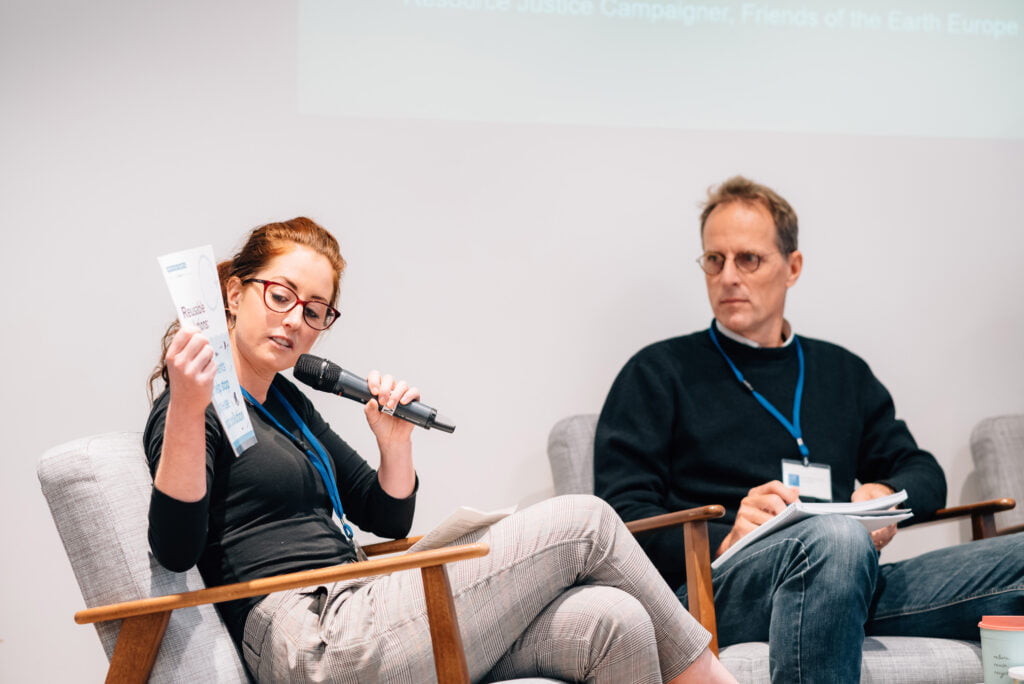 In line with the connection between policies and reusable systems, Juliet Phillips (Oceans Campaigner, Environmental Investigation Agency) shared her expertise on how Extended Producer Responsibility (EPR) can be a transformative tool to incentivise systems change and scale up reusable systems through the modulation of fees, penalties and bonuses within the EPR scheme. 
Bringing another side of the EU co-legislative process, Axel Singhofen (Greens Adviser on Health and Environment Policy) highlighted the essential role of the EU Parliament for strengthening the legislation. He also raised the issue of hazardous chemicals which has not yet been properly addressed within the EU Plastic Strategy. 
"The toxicity of products and materials needs significant attention at the policy level, as it is one of the biggest threats to circular systems. The EU needs proper traceability of all materials, throughout the entire value chain in order to make our products non toxic."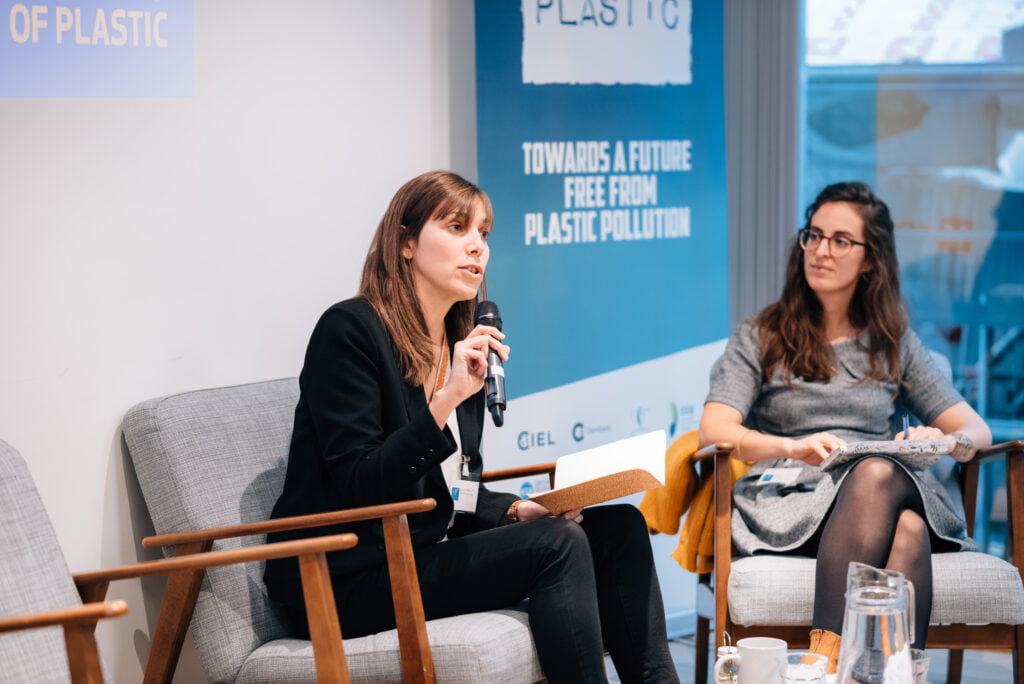 To close the discussion, Justine Maillot (Coordinator of the Rethink Plastic alliance) underlined that there is still resistance to real change, and many industries are appealing for quick and easy solutions (such as recycling), that will not tackle the problem at its origin. 
"Calling up reusable and resilient systems are one of the biggest challenges, but also a powerful and critical opportunity for all actors to work together to ensure concrete, tangible policies on the ground for communities across the continent."
The conference has been a great opportunity to understand the different perspectives that help shape the solutions to the plastic pollution crisis. Now we need EU policies that allow zero waste cities to flourish across Europe.
See more pictures from the Conference here.