Despite ambitious EU legislation in place, progress towards zero waste and the circular economy is not at the pace that it needs to be if we are to tackle our climate, environment and biodiversity crises.
To accelerate the European transition towards zero waste, we want to build a network of trained and empowered local ambassadors who can support municipalities design and develop ambitious waste prevention and reduction policies at the local level, helping protect our environment whilst boosting the local economy.
This is why we have created two training programmes that will be run throughout 2021.
The first is for those wishing to improve their ability to either implement local zero waste strategies, who we are calling 'Ambassadors'. Those selected to be Zero Waste Ambassadors will be trained and supported throughout 2021 to help increase their theoretical and practical knowledge regarding the design, implementation and monitoring of local zero waste strategies.
Apply to become a Zero Waste Ambassador here!
The second is for participants who wish to be able to train and educate these kinds of groups themselves, who we are calling 'Trainers'. Those selected to be Zero Waste Trainers will be guided and supported throughout 2021 to help develop their ability to organise capacity building sessions on zero waste. The training we will provide will focus not only on the theory of zero waste or how to put this into practice but rather on the teaching and learning methods behind how Trainers can pass this knowledge onto others.
Apply to become a Zero Waste Trainer here!
Those who participate in the training programmes and complete the follow up activities specific to each program will be rewarded with a Zero Waste Ambassador or Trainer Diploma to certify their status as a qualified zero waste technician or educator.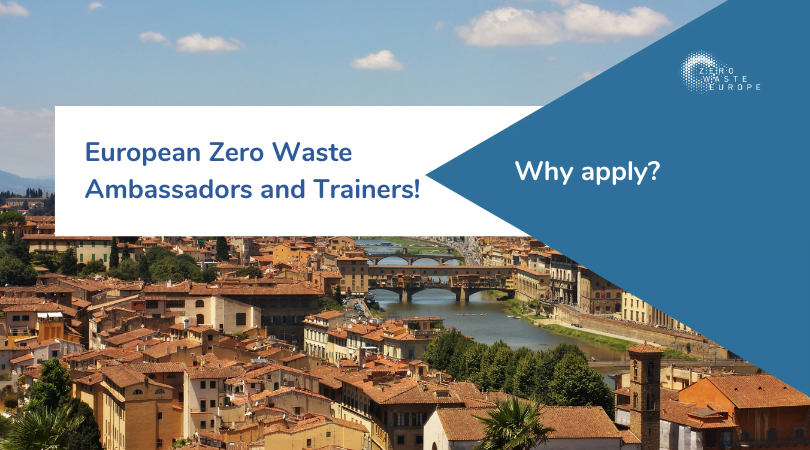 What will you learn during the training?
For Zero Waste Ambassadors:
All the zero waste basics and what it means practically at the municipal level;
How to put the zero waste principles into use within different local contexts;
How to engage and communicate with different stakeholders;
How to grow and develop as a Zero Waste Ambassador;
Direct insights into the Slovenian zero waste journey.
For Zero Waste Trainers
The basics of learning processes;
How to teach zero waste topics and skills effectively;
How to take into account the needs of different learners;
How to create motivating learning environments;
How to create your own trainer's portfolio and learning plan.
Who can apply?
You are based and work in a European country;
You have good working knowledge of written and spoken English;
You work (including volunteering) in the field of waste management, zero waste, circular economy, or any other sustainability field;
At least some of your work is focused on local (municipality) level.
Additional eligibility criteria for the Zero Waste Ambassador programme:
You are at the beginning of your zero waste journey and want to know more;
You are able to take part in the 5-day training in Slovenia on June 12-16, 2021, and two webinars (one in May, one in October).
Additional eligibility criteria for the Zero Waste Trainer programme:
You have a good knowledge of zero waste principles and their practical implementation;
You have some experience in running workshops and other educational activities;
You are able to take part in the 5-day training in Brussels on September 26-30, 2021 and three webinars (in June, August and November).
There is no participation fee for the training and your food and accommodation will be covered as well. However, you might need to cover your travel expenses. Specific details will be discussed with accepted participants.
Apply to become a Zero Waste Ambassador here!
Apply to become a Zero Waste Trainer here!
The deadline for applying to both programmes is April 19th at 11.00 pm (CEST)!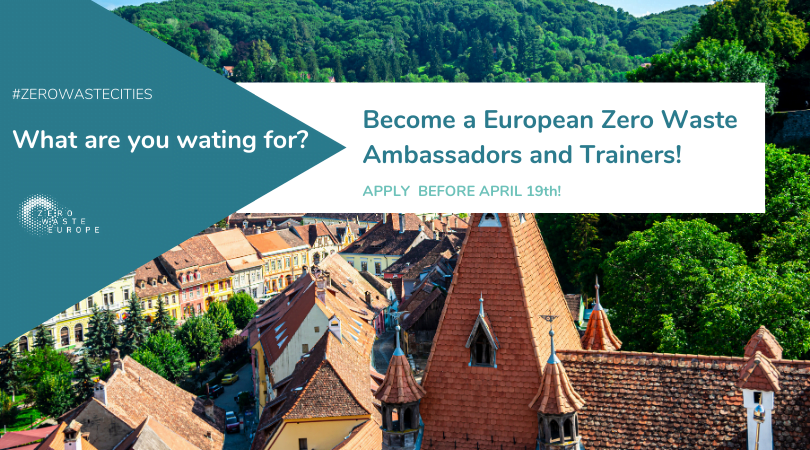 Covid-19 information
We are aware of the current difficult situation regarding the virus. We are still hoping to organise the two 5-day trainings in-person. The selected participants will be notified by the start of May whether the training in Slovenia will happen in-person or online instead. The decision on the second training will be taken by the end of June.
It will be the responsibility of each participant to take the needed precautions when travelling and it will be their own risk in case of falling ill and/or not being able to travel. During the training, we will follow all the existing rules to comply with Covid-19 guidelines that have been set by the national government of the country where the training takes place.
For any questions about the training, please contact Kadri Kalle at [email protected]
These trainings are part of an ERASMUS+ funded project, 'Building a European Zero Waste Academy,' organised by Let's Do it Foundation, Ekologi brez meja, Zero Waste Europe, Tallinn University and the Estonian University of Life Sciences. More information on the project can be found here.