Slovenia is one of the cleanest and most environment-friendly countries, both in Europe and globally. As of today, it is the only European country with a zero waste capital, whilst 'green' tourism is also on the rise within Slovenia. 
It is no coincidence or chance that Slovenia has succeeded in taking a leading role on these issues, whilst continuing to develop and improve in this direction. To better understand the recipe of this success, we had the pleasure to interview Katja Sres, head of PR and Communications at Ekologi Brez Meja (Ecologists Without Borders).
Ecologists without Borders (EBM) is a non-profit organisation founded in 2009 and a member of  Zero Waste Europe since 2014. The NGO is  one of the leading Slovenian organisations dedicated to improving the state of our environment, focusing on efficient resource use and active citizenship. EBM also coordinates a national network of municipalities and monitors their progress in achieving zero waste goals. The group promotes zero waste at the national level and establishes a platform for cooperation and integration with companies and politics.
Hi Katja, can you briefly introduce yourself: how long have you been working in this field and what got you into (zero) waste?
I had to check my Linkedin profile to see that I have been working with EBM for already six years 🙂 This may sound funny, but actually Twitter got me into zero waste when EBM posted about a new position for a PR and Comms employee. I would never have thought that something so positive could come from this particular social media, where negative energy is prevailing.
Tell us more about the growth of the zero waste movement in Slovenia. We all know the outstanding case of

Ljubljana – Europe's Capital of recycling

– but how many other cities have followed the example and are now on the path towards zero waste?
Currently, there are nine Slovenian municipalities (representing 18 % of the total Slovenian population) on the path towards zero waste. These cities have together managed to prevent 15 thousand tons of mixed waste and consequently save €3 million in waste management costs.
However, the zero waste movement is not only growing with the number of municipalities. I love to boast about Slovenia, which is probably the only country in the world with a zero waste capital, zero waste events, a zero waste hotel and zero waste shops. And this is all because the zero waste approach is also becoming an increasing part of Slovenians lifestyles.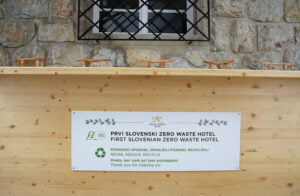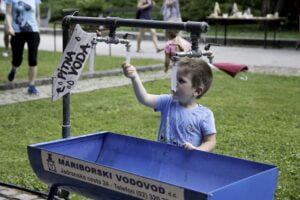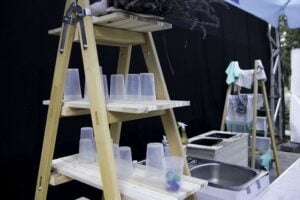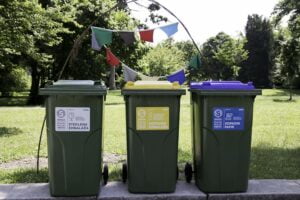 What are the conditions and context which has led to Slovenia's success? How did the country manage to become a frontrunner of zero waste in Europe and beyond?
Slovenia has a good basis for waste management. There is a long tradition of separating waste for collection. For example, some of the municipalities, including among those, one of the best cases in Vrhnika, celebrates 25 years of separate collection this year.
Slovenians are also known to be nature lovers – ask any foreigner living in Slovenia –  one of the many ways to describe us is definitely 'hiking nerds'. Another long-lasting hobby of ours is cleanups. So it wasn't a surprise when the country managed to gather almost 300,000  people to clean Slovenia in one day and started paying more attention to waste. Once we had to close many landfills due to insufficient health and safety standards, there was no other option but to improve our waste management. This began with just soft measures since there was no big infrastructural funding available any more.
In your opinion and experience, how crucial is the role played by cities and municipalities in moving a country further towards zero waste?
In Slovenia we have 212 municipalities, meaning 212 mayors with 212 different goals to prolong their position. It is an important incentive for the whole country when – at least – some of them are trying to achieve zero waste goals, proving progress is possible and achievable, something those working at the national level like to forget. The bottom-up approach with communities, which 'forces' different stakeholders to cooperate and is one of the core principles of zero waste, is therefore crucial to the success of zero waste nationally.
What do you identify as the main challenges to actually changing the way we currently deal with waste, switching mindsets from waste to resource management, both in Slovenia and beyond?
We definitely have to make more ambitious steps, beyond just boasting about our good separate collection rates. There is still a lot that is overlooked, for example, opportunities in the field of reuse, repair and other prevention steps towards the top of the zero waste hierarchy. Currently, a huge challenge in Slovenia, as in many countries,  is the short sighted nature of many government decisions, that in our case even tried to shut us down at one point. In the broader scope, it seems inevitable that we will need more Extended Producer Responsibility systems and other mechanisms to ensure we are paying the real price of the resources we use, which will then help to forcefully improve our mindsets, to amend our consumption and production patterns.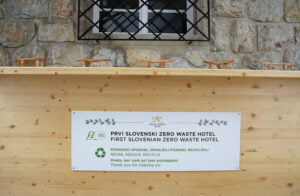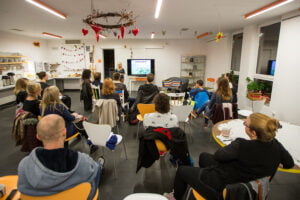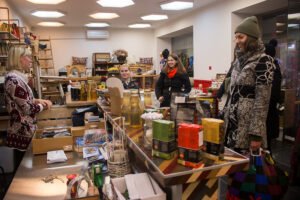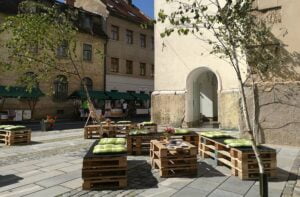 What was – and currently is – the role of EBM in helping municipalities achieve such outstanding results in Slovenia?
Our main goal is to facilitate, educate, propose and reinforce existing and new good practices, as well as monitoring commitments regarding zero waste from municipalities. We take each municipality as an individual, as each of our nine "zero wasters" have different challenges which we need to address.
Looking forward, what are your perspectives for the future of the zero waste movement in Slovenia?
These days we are celebrating the sixth year since the creation of the zero waste program in Slovenia. We are working on a new system to more actively support zero waste municipalities and to encourage others to join them.
We are also very eager about to learn more and support the creation of a European label for businesses and certification cities, which in Slovenia will represent a big opportunity to achieve our zero waste goals. 
There is still a lot of work to do, but we believe that the future will be bright, green and zero waste. "
If you are curious to discover more about our work on zero waste cities, please have a look at our website. 
If you want to dig into the successful case of Ljubljana, the first zero waste Europe's capital, download our case study.
You can find more about Ecologist Without Borders and their work here.