In November 2015, the city of Graz's Environmental Department drew up a new comprehensive action plan, building upon existing activities to add new initiatives and measures that have been designed in order to avoid waste. 
There are many measures that can be taken to prevent waste, it can be tricky to know where to start. 
The City of Graz recognised  its diversity as a strength and looked at tackling their growing amounts of waste in a strategic way, through the implementation of a wide range of waste prevention measures. 
In 2015, the Waste Prevention Programme was launched with the aim of creating awareness on waste within society and our economy as well as the importance of sustaining a liveable environment. With this comprehensive focus, it made sense to look at all phases of the life cycle when thinking about measures for waste prevention. It was therefore important to focus on the zero waste hierarchy, as an approach to waste management.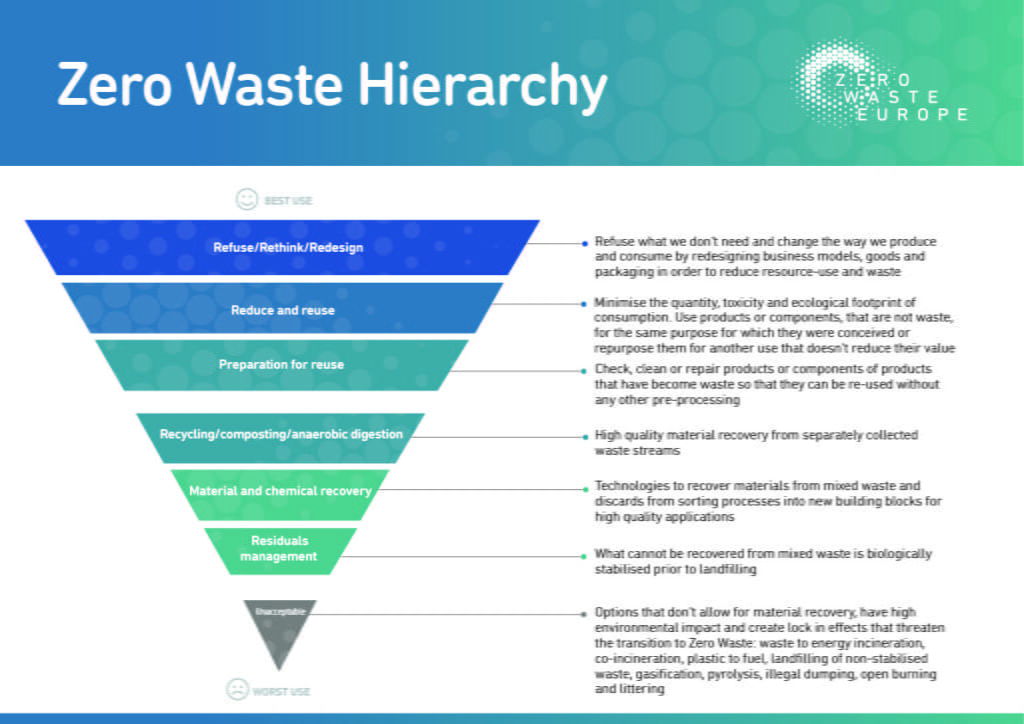 Thanks to this broader approach, new trends like consciously renouncing consumer goods ("refuse") are taken into account and become part of the Waste Prevention strategy. All in all, 30 measures concerning "Reduce", "Re-Use & Repair", "Rethink" and "Redesign" were suggested in the Waste Prevention Programme, and a list of strategies already implemented were provided. 
"Reduce" covers traditional measures for waste prevention that reduce the amount of waste we generate. 

"Re-Use & Repair" stands for preventive actions that support the re-use of used, but still functioning products. 

"Rethink" means creating awareness in the population about how we generate waste and what is needed to prevent this. 

"Redesign" measures change the way products and materials are designed, making those which pollute the environment, are harmful to human health or non recyclable obsolete and taken out of the economic system.
In line with the waste hierarchy, recycling is not the primary focus of the Waste Prevention Programme. Nevertheless, recycling of course contributes to waste prevention by the returning of used materials into the economic cycle.

Actions to prevent waste can not only be implemented by local governments but also by residents and businesses. Recognising the importance of a holistic approach to waste prevention, the City of Graz's programme offered, in addition to measures to be taken by the municipality, a wide range of ideas and best practice examples for citizens to employ in their everyday lives to reduce their waste.
"Resources are scarce, and preventing waste also means saving resources. We should no longer regard waste as an annoying left-over, but as a precious resource that can be reused" 
Christopher Lindmayr, head of the Department for Waste Management Controlling
Three of the most innovative projects implemented by the City of Graz to tackle and prevent waste from being generated include:
BackCup

Every city dreams of it – a reusable coffee-cup-to-go. However, its implementation is not as straightforward as it at first may seem. But together with Verena Kassar, who runs a local zero waste grocery, das dekagramm, the City of Graz accepted the challenge. 
In December 2018, the "BackCup", became available at more than 40 cafés in Graz. Cups are provided by the City of Graz Environmental Office and cleaned at the coffee shops. Along with the cups, the participating cafés and restaurants get materials to provide information and advertising for citizens. Customers pay a 1€ deposit for the cup, which can then be returned without washing at any of the participating cafés. Already, some of the biggest café chains are part of the system. Of course, Graz has not yet got rid of its single-use-cups, but cafés, customers and the City of Graz have taken a critical first step towards a more sustainable coffee culture that has a lower amount of waste produced.



Source: Verena Kassar, das dekagramm
Re-Use Box

The Re-Use Box is a tool to raise awareness for the reuse of everyday products and makes collecting reusable items easier. It is a project that was initiated by the Environmental Agency of the City of Graz, the ARGE Abfallvermeidung and the Federal State of Styria. Citizens can collect the boxes at the City of Graz Service Centres, at nine Re-Use Shops all over the city driven by Caritas and at the local recycling centre. They then fill the box with items that they no longer need, but for which other people can still find usage, and return this to the Re-Use Shops or every Friday at the recycling centre. Employees of the Re-Use Shops will then sort the collected items, prepare them for re-use and sell them in the stores. That way, citizens are encouraged to reuse items instead of throwing them away. 
This initiative not only has a positive impact on the environment by reducing unnecessary use of resources, but it also creates employment which positively impacts the local economy whilst also helping to provide inexpensive, high-quality products for those that need it. 
       
Source: ARGE Abfallvermeidung
Graz repariert / Graz repairs
Subsidies for repair initiatives, such as repair cafés, have long been offered by the City of Graz. Citizens who have their electronic devices repaired by a professional can apply for a subsidy as well. In an attempt to go further, a repair network was established called "Graz repariert" ("Graz repairs"). It connects shops that offer repair services with customers as well as with other shops. An online platform facilitates quick and easy access to the needed repair and helps to maintain certain quality standards. The 32 participating shops currently commit themselves to observe a set of rules concerning cost transparency and in return, they are awarded with a seal of quality. Going back to repairing items instead of throwing them away and buying new ones is an important step towards a zero waste future and shows how local initiatives can contribute to a circular economy.


Source: Fa. Hirschmann
Looking beyond and going further
A first evaluation of the measures in the Waste Prevention Programme has already taken place. It showed that most of the measures have been put into effect successfully, while some are still in progress. With an updated evaluation, the Waste Prevention Programme will be taken to the next level and a monitoring process will be implemented in order to make sure that no area of waste prevention will be left behind. 
Graz looks set to stay on track in their process of moving away from a throwaway society towards an environmentally, socially conscious zero waste city.