Currently, we know that Europe finds itself at a critical moment in time towards its "material transition" towards circularity and decarbonisation. Urgent action is needed on a large scale if we are to solve the growing challenges facing our environment and societies today.
We know the solutions are out there already. What is needed now is greater effect and pace behind building the power, capacity, and expertise of local actors to turn the vision of a zero waste future into a reality.
Zero Waste Europe is excited to announce the start of a new project aimed at doing exactly this. Together with 11 of our members, we want to use the opportunity provided by new European Union legislation on waste, plastics and climate, to scale up the quantity and quality of citizen-centred zero waste models successfully applied by municipalities. 
Over the next 2 years, we will be working together with our members in Bulgaria, Croatia, Cyprus, Germany, Greece, Italy, Portugal, Romania, Spain, Slovenia, and Ukraine to multiply the impact of our work and get at least 20 new municipalities implementing zero waste plans. Furthermore, in this time we will be expanding and rolling out both the brand new Zero Waste Cities Certification, with the development of the Zero Waste Europe Academy underpinning this work as it becomes a leading hub of expertise and resources.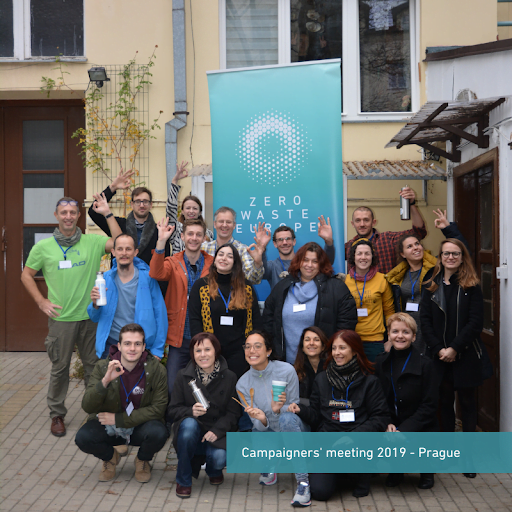 Zero Waste Europe members and staff at our last face to face meeting, Prague, 2019
Our Theory of Change
From our experience of helping steer countries in a new direction, one towards zero waste, it is clear that having a flagship, local best practice available to emulate is critically important. By creating one or two successful role model cities in each country, this project will begin to play a direct role in helping accelerate progress towards several key circular economy and zero waste indicators.
By showcasing how to successfully put zero waste into practice, we will begin to immediately transform the narrative on waste and resource management. Key stakeholders, ranging from policy-makers to the media and the general public, will see that zero waste and the circular economy is not just an ambitious vision, but rather a set of tangible policies that bring several benefits for a community.
Furthermore, cities will not only have greater access to the tools and expertise needed to support their implementation of zero waste strategies, but they will be connected to a European network of other cities and towns who have embarked on a similar journey. Zero Waste Europe's current network of municipalities is a diverse group of urban and rural municipalities, acting as a unique and important tool to support those new municipalities starting out.
Whilst we continue to seek to grow and develop our local-level work to new countries outside of these 11, this project is an exciting and important milestone for our Zero Waste Cities programme. By providing direct support and funding to expand the excellent work of our members on the ground, as well as building the Zero Waste Europe Academy into a thriving intelligence hub for zero waste, we expect that the next few years will become a tipping point for zero waste. We will showcase to other European municipalities that zero waste not only brings benefits to the health of our planet and of ourselves but also that it's the natural and most effective way to fight climate change from a resource perspective.
Stay tuned!
We will be communicating the stories and impact this project brings, together with our members, over the next 2 years and more. We will be capturing the successes, challenges and realities of how zero waste can be implemented locally in a diverse range of European contexts, packaging this up to be shared through the Zero Waste Europe Academy to help and inspire others on their journey towards zero waste.
Read the blog in Italian...other languages are coming soon!