The town of Liubotyn recently made history by signing its commitment to become the second zero waste city in Ukraine and the third within a non-EU country.
Following in the footsteps of Lviv, a city with a population of 751,000, Liubotyn is a smaller municipality within the Kharkiv Oblast area with a population of 21,000, set on the eastern side of the country.
The Liubotyn City Council committed that by 2030, it will put in place the measures that will enable the City to solve the problem of excessive consumption and excess production. The City Council specifically prioritised their aim of reducing the use of disposable plastic and packaging, using alternative solutions instead, as well as their aim of stimulating the city's population to consume resources more consciously. The zero waste commitment from Liubotyn also includes the full roll-out of a separate collection system for household waste, supported by the introduction of a Pay-As-You-Throw system adapted specifically to the local context.
"First, we will focus on disposable plastic campaigns and the rejection of unnecessary plastic packaging and disposable containers. We also will create a local waste management plan with a specific focus on composting which is extremely relevant for us in Liubotyn given that we are not a densely populated city. Also we are in the process of buying a woodchipper, which we will aim to make a mulch from that will be kept for the public's needs."

First Deputy Mayor of Liubotyn, Serhiy Kysly
What links these recent commitments from both Lviv and Liubotyn is the hard work and support that local Zero Waste Europe members, Kharkiv Zero waste and Zero waste Lviv, have been putting in over the past couple of years. Both organisations wanted to showcase the process of becoming zero waste is applicable and relevant for both big (Lviv) and smaller (Liubotyn) Ukrainian cities. By setting a path that shows how zero waste can be done, the Zero Waste Alliance Ukraine hopes that Lviv and Liubotyn will become role models for other cities in the country to follow and replicate. In particular, Liubotyn City Counil is open and keen to exchange experiences and cooperate with other zero waste cities within the programme.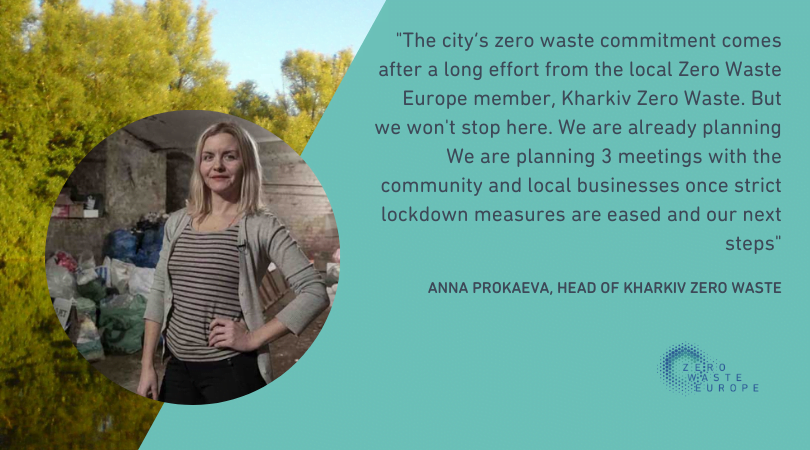 "We are planning 3 meetings with the community and local businesses once strict lockdown measures are eased. According to their responses and needs, we will create an informational campaign 'How to implement zero waste in your life and business'. We will then create a working group with representatives of business, government and the local community to help drive Liubotyn's progression towards becoming a Zero Waste City."
Anna Prokaeva, Head of Kharkiv Zero Waste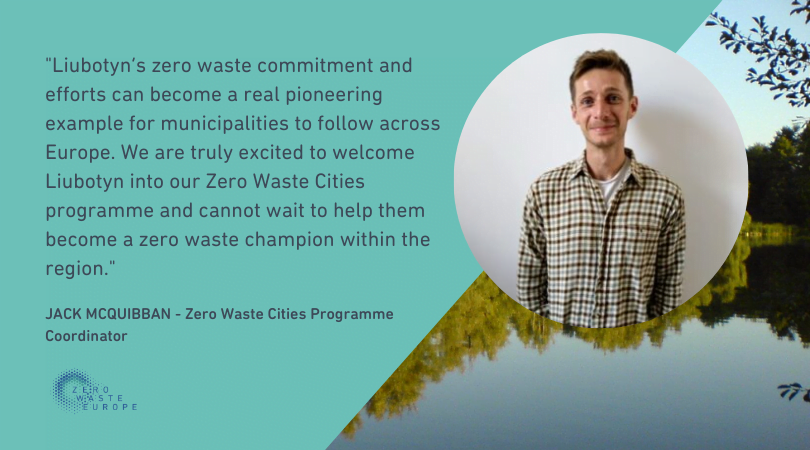 "We are seeing real progress in Ukraine due to 2 main factors – a realisation that the current status quo of waste management and our linear economy cannot continue if we want to have a sustainable future, coupled with the active and expert support by local experts within the Zero Waste Alliance Ukraine. "
Jack McQuibban, Zero Waste Europe's Zero Waste Cities Programme Coordinator