On February 18th, Rezero and the Spanish Zero Waste Alliance organised the "Zero Waste Cities and Towns" webinar with the aim of introducing and sharing zero waste case studies from Spanish and Latin American experiences. In this blog, Jennifer Berengueras from Rezero updates us on what was discussed and what we can learn from the experiences the speakers shared.
Emphasizing the potential of local administrations in terms of sustainable management of municipal waste and resources, the webinar aimed to inspire administrations, entities, and civil society to move towards the reduction and progressive use of waste as resources and to achieve zero waste and zero emissions.
It was clear from the presentations that organic waste management, as well as ending anonymous collection systems, are key and result in considerable benefits. Very interesting composting experiences were shared from both rural and urban areas. Other impactful local solutions were also highlighted throughout, such as a single-use plastics regulatory ordinance, a leafleting tax with shocking results, and the use of hens and goats to manage organic waste.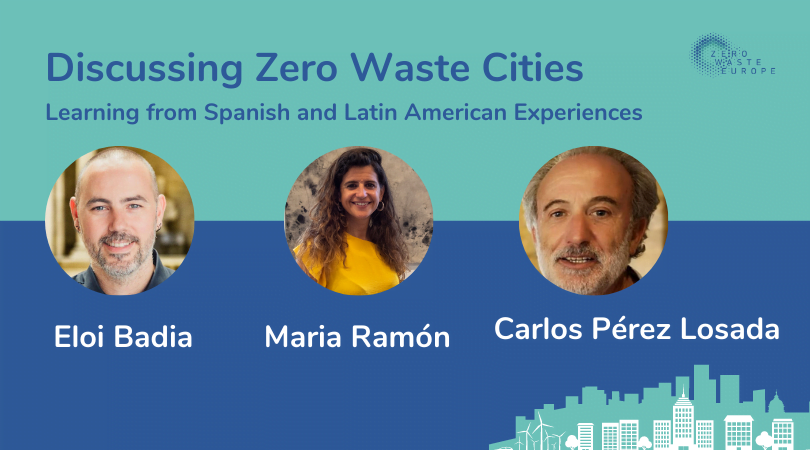 Eloi Badia, Climate Emergency and Ecological Transition Councilor of the Barcelona City Council (Catalunya, Spain) explained how the current tax framework in Catalonia penalises every tonne of waste that is sent to landfill or incineration, but he believes this outdated system directly transfers the costs to citizens without affecting municipal finances. So it is out of co-responsibility with the citizens that administrations must act.
Badia, who describes street containers as "anonymous landfills," believes in breaking anonymity, through individualisation systems and towards a pay-per-generation (Pay-As-You-Throw) system that allows individuals to control their waste collection taxes through their behavior. Barcelona, a city of 1.6 million inhabitants, has started a series of door-to-door collection system pilot tests through which 85,000 homes will be reached this year and is expected to be implemented throughout the entire city by 2025. By increasing recycling levels in this way, dependency on incineration can also be reduced. 
"In order to meet the collection and recycling targets set by the European Union, there is no alternative to complementing the above systems with the extended responsibility of the producers by implementing a deposit and return system."
Carlos Pérez Losada, responsible for the Diputación de Pontevedra's REVITALIZA project (Galicia, Spain) said the project arose from the demand for a waste plan according to current times. According to Pérez, bio-waste – the most generated household waste stream, is the only waste stream that can be  effectively treated with scientific, technological, health and environmental guarantees and benefits. 
The REVITALIZA system is applicable not only in rural areas (such as Pontevedra where the population lives very dispersed across a wide geographical area), but also in small conurbations and even in medium-sized cities above 50,000. 
"Of every 3 euros that Pontevedra spends for waste management, 2 are associated with containers, collections and transport. These costs are avoided directly if bio-waste is treated in households through composting. In addition, eliminating bio-waste avoids contaminating other waste streams and allows to reduce the frequency of their collection – further reducing  costs."
Read more in our case study: "The story of Pontevedra".
Maria Ramón, Mayor of Esporles (Balearic Islands, Spain)  explained the gradual process that led this municipality of 5,000 inhabitants to implement their Pay-As-You-Throw system in 2009, which has resulted in a separate collection rate of 75% ever since. The separate collection system locally involves the creation of a waste collection depot, the gradual implementation of door-to-door collection of organic waste and packaging, as well as mobile containers for paper and glass.
In 2009 the "red bag" for waste was implemented by dividing the waste rate into a fixed tax of 90euros/ year  – which involved a reduction of 60% of the previous cost – and 1 euro tax for each red bag.  It is estimated that a person living alone can generate 2-3 red bags/year, 4 or 5 for a family of 2, or between 5 and 8 for a family of 4 members. This was supplemented by a local ordinance that funded a distributed advertising campaign that resulted in a decrease of 2 tons of paper per month in the municipality.
"The key to our success has been local citizens' awareness and participation, supported throughout by the government's continued courage and commitment to implementing a new, more sustainable model of resource management."
The webinar, held in Spanish, also focused on experiences from the Latin American context.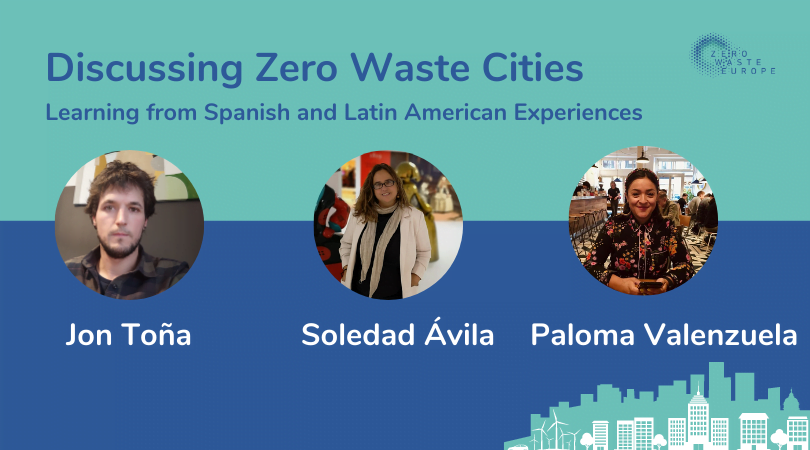 Paloma Valenzuela, head of the Environment Department in the municipality of Providencia, Santiago de Chile, a municipality where 90% of its 142,000 inhabitants live in high-rise buildings within a densely populated area.
Through different programmes, they have managed to reduce the generation of waste per person from 525.6kg per capita to 182.5kg per capita and since 2019, even though the population continues to increase, they have maintained the decreases in waste generation annually.
For dry recyclables, the municipality implements a door-to-door collection system that is being tested in 1500 buildings, supported by mobile waste collection depots. As for the organic fraction, they have a vermicomposting kit program (which they have delivered to 3250 homes leading to the avoidance of 567 tons of waste from being generated) as well as a Drop Off system pilot test (involving about 200 families which deliver between 2-3 tons each Sunday). In addition, they have installed automated composters for high-densely populated communities which are being tested in 3 buildings of over 300 apartments. With these measures, the municipality hopes to reduce the volume of organic waste by 80%.
The municipality of Providencia created an Ordinance regulating single-use plastic availability. The ordinance bans the trade, distribution, and delivery of products such as plastic straws, mixers and cutlery, polypropylene and polystyrene food containers or expanded polystyrene thermal cups.
Soledad Avila, councilwoman for Education, SDGs and Waste of the City of El  Boalo,Cerceda and  Mataelpino (Madrid, Spain) brought us back to the rural areas like theirs -located in a Biosphere Reserve area and with a majority of single-family homes. Through various programmes they have managed to reduce waste sent to landfills since 2016 (except in 2020 when their population increased).
Their waste management programs include community composting, composting kit distribution and training for individual composting (which involves a 35% reduction in the waste tax). They also have door-to-door collection in homes and commercial establishments (with a 15% reduction in the tax) which also covers garden waste, with relevant bags provided at a cost of 4.5 euros.
Other programs include a composting facility in a common space cared for by voluntary families, where they use hens to treat bio-waste from a nearby school cafeteria and which includes an educational space to raise awareness about the benefits of composting. In addition, they have a municipal goat herd which, as well as helping treat the remains of the municipality's green waste (the goats eat the green parts and the branches are crushed for the composters), also supports the recovery of an endangered breed, helps clean the forests and improve regeneration of the local soil.
El Boalo also has a 'repurpose' space in which citizens donate objects for reuse, as well as a local ordinance that establishes the services and obligations of waste collection. As a child-friendly city, the change in waste management has also increased the awareness and contribution of schools.
Jon Toña, Environment technician at Cuadrilla de Gorbeialdea (Basque Country, Spain) shared their experience in closing the cycle of organic waste on a local scale in this eminently rural area, with 70 scattered population centers and whose main type of housing are single-family units with the land.
At the level of domestic/individual composting, they have developed extensive information materials and resources through the local media, talks, and workshops, as well as the distribution of composting kits. The key to the success of this program is to offer structuring material to citizens to facilitate the cycle and reduce the abandonment of the composting practice. This method has twin benefits, supporting households to compost effectively with their organic waste whilst also closing the loop for the green waste that's generated throughout the municipality's rural land. 
Community composting projects have found limitations in the Basque legislation which, among others, does not allow the use of compost for food-related purposes. However, at Cuadrilla they are also developing an agro-composting pilot test with the waste from a local school. They are following the same principles of the Austrian model, evaluating the capacity to develop this model further to support more local farmers and ranchers. At the same time, this work is supplemented by many other campaigns for the prevention and reduction of waste.
Antonio Sanz, Councillor of Environment in Formentera (Balearic Islands, Spain) stressed the importance of reducing waste, especially in island situations, as its management may involve considerable costs (in Formentera of 1 million euros per year) when having to transport the waste to another island. To reduce costs in Formentera they are implementing a series of measures which include:
Pallet and bicycle reuse programs

Testing a deposit and return system

Declared themselves a "single-use plastic-free government"
The final speaker was Josep Maria Tort, Director of the Waste Agency of Catalunya who encouraged municipalities to have initiative and will and at least set up a local waste prevention and management plan so as not to improvise short-term policies. Tort also shared that the new Catalan Law for waste prevention and management and efficient use of resources that is being developed will include the obligation to apply a fair tax, will facilitate the creation of new EPRs (at least for textiles, furniture and mattresses), and aims to implement mechanisms such as surcharges or fees on single-use elements to encourage reuse and avoid certain products.
As part of our One Community at a Time project, the experiences shared throughout this webinar are part of Rezero's and the wider Spanish Zero Waste Alliance's work to support Spanish municipalities begin designing and implementing local zero waste strategies.